Bidding has ended on this item.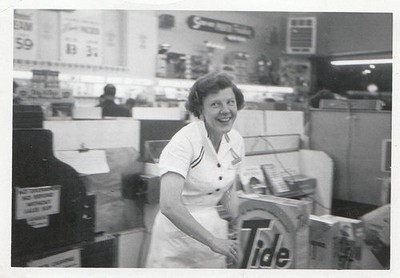 Similar items you may be interested in
Collectibles > Vintage, Retro, Mid-Century > 1950s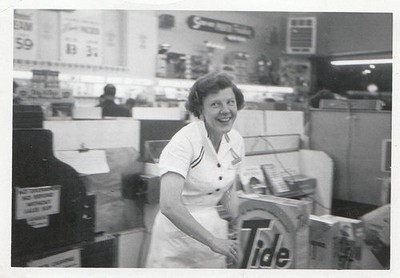 Similar items you may be interested in
Description
Vintage Photo SAV ON DRUGS Store TIDE Gardena CA. 1955 TO SEE MORE ITEMS LIKE THIS, PLEASE CLICK ON THE LITTLE RED DOOR TO ENTER MY Item: One original occupational photo of a check-out woman at SAV-ON DRUGS in Gardena California.

On the reverse is written: "Sav On Gardena Store #19, Oct 1955". You can see the Sav On sign on the wall to the right as well as a TIDE box on the check-out table.

Condition: Very good, See scans Location: Gardena, Los Angeles County, California, USA Date: October, 1955 Size of photo: 4.50" x 3.25" LY - 1220 INTERNATIONAL: IF ITEM REACHES $30.00 OR MORE, WAIT FOR ME TO YOU WITH FURTHER INFO AS ITEM MUST GO REGISTERED MAIL AT $13.50 ___________________________________________________________________________________ KEYWORDS: OLD VINTAGE ANTIQUE ORIGINAL IMAGE SNAPSHOT REAL BLACK AND & WHITE PHOTO SAV-ON SAVON SAV ON DRUGS GARDENA LOS ANGELS COUNTY CO.

CALIFORNIA CA.

TIDE BOX CHECK-OUT PERSON WOMAN LADY FOOD CHECKER 1955 1950S PHOTO HISTORY WE HAVE RESEARCHED TO THE BEST OF OUR ABILITY EACH FOTO AND WILL ALWAYS LIST ALL INFORMATION THAT IS ON THE REVERSE OR FROM PAPERWORK ETC THAT CAME WITH THE ITEM IF APPLICABLE.

IF YOU NOTICE AN ERROR OR WOULD LIKE TO ADD YOUR EXPERTISE AND ADDITIONAL INFO TO THE ITEMS, WE WOULD LOVE TO RECEIVE AN EMAIL FROM YOU.

WE KNOW MANY OF YOU ARE EXPERTS IN YOUR FIELD AND WE WELCOME YOUR KNOWLEDGE.

IF YOU LIKE OUR INVENTORY, PLEASE ADD US TO YOUR FAVORITE SELLERS LIST SO EBAY WILL NOTIFY YOU WHEN NEW ITEMS ARE LISTED.

WE AIM TO PLEASE! THE FASTER YOU PAY, THE FASTER YOU WILL GET YOUR ITEM! WE ACCEPT PAYPAL ONLY WE WILL SHIP ANYWHERE IN THE WORLD AND WILL COMBINE AS FOLLOWS:UP TO (10) PHOTOS AT THE SAME COST OF $1.99 IN THE USA UP TO (10) PHOTOS AT THE SAME COST OF $3.75 WORLDWIDEEACH ADDITIONAL PHOTO AFTER TEN, PLEASE ADD $.50 EACH THESE COSTS INCLUDE A STIFF CARDBOARD ENVELOPE MADE ESPECIALLY FOR PHOTOS AS WELL AS A HARD PLASTIC SLEEVE TO PROTECT THE PHOTOS FROM MOISTURE.

A COPY OF YOUR PAID INVOICE WILL ALSO BE INCLUDED.

ALSO INCLUDES DELIVERY CONFIRMATION FOR ITEMS BETWEEN $20 AND $200. . THANK YOU FOR VISITING OUR EBAY AND WE HOPE TO SEE YOU AGAIN SOON!