This listing has ended.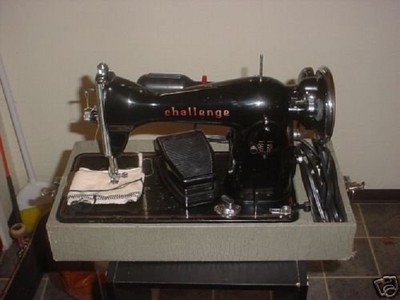 Similar items you may be interested in
Collectibles > Sewing (1930-Now) > Machines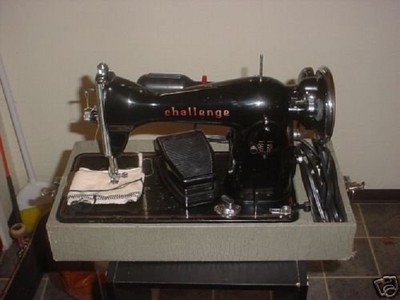 Similar items you may be interested in
Description
Portable Vintage Challenge (Sears) Sewing Machine Clothing Sew Household Tools Capable of sewing most materials including denim and garment leather!! I bought this sewing machine and another with the intentions of doing leathercraft with them but am using a newer model instead now.

The lady I got it from said she bought it new and always had it professionally maintained.

The machine itself is in excellent working condition.

In its day this machine had more options than a Singer and was made for Sears-Roebuck Co.

The outer case bottom was damaged in shipment but can be repaired and I am including it along with the top portion which is in decent used condition.

I am selling the machine here in this listing and including the case as a no cost extra.

Your choice as to repair it or not.

Pic does not show damage to case.

Information on 15 Class Type Models (not made by Singer) Various names may include: Precision, Deluxe, Universal, Ambassador, Dressmaker, Goodhouse Keeper, Sewmore, Morse, Peerless, Challenge by Sears (model 148.151, 148.153, 148.270, 148.271, 148.272, 148.273, 148.27, 151.270, 151.272, 153.271, 153.272 and others), Brother, White, Consew, Fleetwood, Aldens, Home Electric Deluxe, Standard DeLuxe and others.

This machine was available in black and other colors.

Features normally not found on earlier Singers may include quick-release pressure regulator and drop-feed system.

Also for (new/reproduction) Singer "Nostalgia Model #NOST-3" with 15 class bobbin system and side numbered tension.

Note: eBooklet users manual available at Sewing Machine Manuals dot Com Most parts for this machine are interchangeable with the Singer 15 class and can be found on eBay.