Bidding has ended on this item.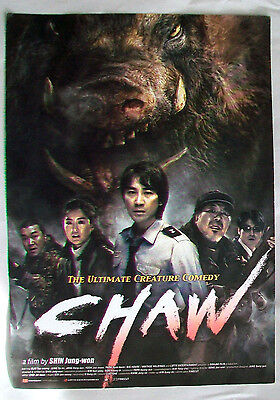 Similar items you may be interested in
Collectibles > Science Fiction & Horror > Other Sci-Fi Collectibles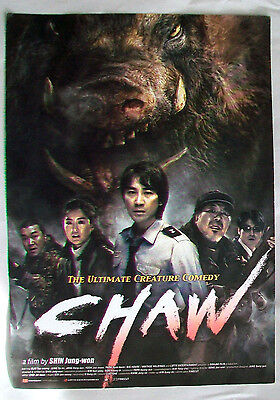 Similar items you may be interested in
Description
This is a Sell Sheet for the 2009 Korean movie CHAW aka CHAWZ which was directed by Shin Jung-won and stars Eum Tae-woong, Jung Yu-mi, Jang Hang-sun, Yoon Jea-moon and Park Hyuk-kwon.

A Sell Sheet is made up by a sales agent for selling the movie both domestically and internationally.

You can only get these if you attend various film festivals and film markets such as the AFM, SXSW, Toronto, Berlin, Cannes, etc...The front of the sheet features the movie poster image.

The back of the sheet features a synopsis of the movie, background on the director and the five leads and contact information for the international sales agent.

The Sell Sheet measures approximately 11.75 X 8.25 inches.The Sell Sheet is printed on high quality card stock paper.

The Sell Sheet is in Very Good condition.

I will combine similar items to greatly reduce the shipping cost.Please take a look at the many other similar auctions that I have currently listed and keep my seller page bookmarked since I will be listing a variety of hard to find collectibles from erse sources in the near future.

Several new and rare items will be added over the next few days and weeks.

I also list other Cinema, Comics, Literature, Posters, Model Kits, Autographed pieces & Classic Toy related items.========================================================================NOTE THAT THE COSTS PROVIDED BY EBAY ARE ONLY AN APPROXIMATE FIGURE.

DO NOT BE PUT OFF IF THE ESTIMATE SEEMS HIGH! I CHARGE ONLY ACTUAL AND PACKAGING RELATED FEES , ALSO, I WILL HAPPILY COMBINE MULTIPLE ITEMS YOU WIN IN ORDER TO REDUCE THE COSTS.

IT IS ALWAYS BEST FOR YOU TO WAIT FOR ME TO SEND YOU AN INVOICE THAT REFLECTS MY BEST ESTIMATE FOR WHICH IS OFTEN LOWER.

THIS CAN TAKE UP TO 24 HOURS, BUT USUALLY TAKES LESS TIME THAN THAT.

IF YOU HAVE WON 1 OR MORE ITEMS BUT ARE BIDDING ON MORE THAT WILL END SOON, YOU ARE WELCOME TO ASK ME TO HOLD YOUR CURRENT WINS TO SEE IF YOU GET THE OTHER ITEMS YOU ARE INTERESTED IN AS WELL.

THIS WAY, YOU MAY WIND UP SAVING A SUBSTANTIAL AMOUNT ON THE . ALL YOU NEED TO DO IS ASK.

IT IS MY SINCEREST DESIRE TO SAVE YOU AS MUCH MONEY AS POSSIBLE ON . FINALLY, BY BIDDING ON AN ITEM, YOU ACCEPT THE RESPONSIBILITY TO PICK IT UP AT CUSTOMS SHOULD THERE BE A PROBLEM.

IF YOU ADVISE ME WHAT TO SAY ON THE CUSTOMS FORM TO PREVENT A PACKAGE FROM BEING HELD THERE, I WILL FOLLOW YOUR INSTRUCTIONS BUT ULTIMATELY IT IS YOUR RESPONSIBILITY TO PICK UP YOUR MAIL.