This listing has ended.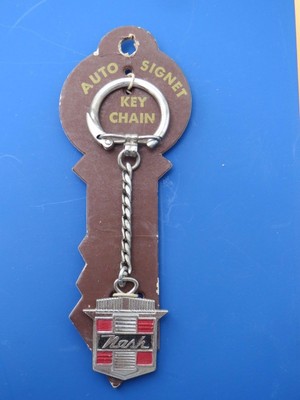 Similar items you may be interested in
Collectibles > Pez, Keychains, Promo Glasses > Keychains > Vintage (Pre-1970)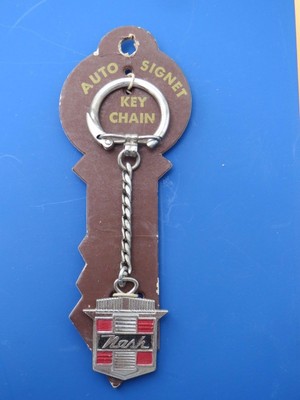 Similar items you may be interested in
Description
NOS Vintage Nash Key Chain Old autopart warehouse find.

Circa 40s - 50s Nash w/ SHIELD Key chain in original key shape packaging key chain.

This is hard to find in this condition whether you collect vintage key chains to display or have a nice restored or just a cool muscle car.

This key chain will not disappoint.

Shes a Beauty!! Key ring itself shows a little aging & has a little patina but in fact the red & black in medallion is nice & bright, chrome is shiny & bright with no dents, chips or discoloration.

The cardboard key chain display is unbroken or torn w/ clear print.

Hey it is after all about 50-60 yrs. old!! Still really cool though.

These were made when America was proud of everything they made no matter how big or small.

Truly amazing how the Chrome,Color & Definition still have such brilliance after all these years.

The key shape display is not broke & in EX+ condition.

Key chain will be mailed between two cardboard strips inside padded envelope.

Will ship immediately.

If not totally satisfied just return it in condition received for full refund.

Buyer pays return shipping.

Note: This is the last Nash key chain I have & it's beautiful.

My junk camera does no justice to any of the brilliance that these key chains have.

So if you have one of these rare gems of a car or project.

This will be the finishing touch for your classic.

These were found in an old autopart warehouse that I cruised by in my bike from the early to mid 70's. I was told the Mom & Pop autopart had been in existence since the 40's to about the early 80's. Then of course these types of autoparts faded out to Chief who then turned into Autozone & Pepboys let's not forget along with cheap(er) parts.

Though rumored to reopen for years by other relatives it never did.

I remember my dad & uncles buy parts (spark plugs mainly) for their Roadrunners & GTO's. After 20 some odd years of being closed & fenced in property was sold & our neighborhood autopart was torn down.

No big deal just another piece of AMERICANA gone down the drain.

It is rumored they will be building another Autoparts in its place with of course cheap(er) parts.