This listing has ended.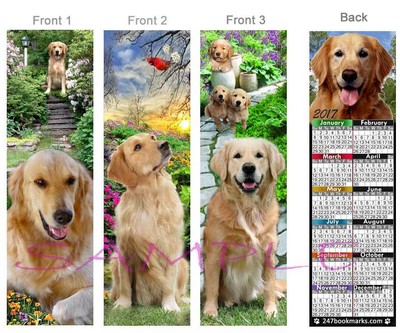 Similar items you may be interested in
Collectibles > Paper > Calendars > Current Year, Next Year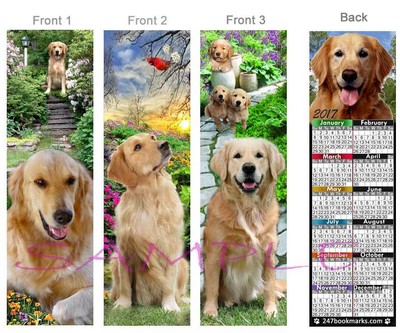 Similar items you may be interested in
Description
Use these as a CALENDAR AND OR a Bookmark -Duel Use!! Normal 0 false false false EN-US X-NONE X-NONE You Get here the Bookmark Set Shown.

We offer in our ebay store thousands of my Artisan Colorful Fun Designs, all made by us in the USA.

Each bookmark is colorful, double-sided and fully laminated for durability.

You are getting from us unique items I take great pride in my artwork, and love to spread the joy, check my feedback. "KIDS" of all ages 3-100 years, love our bookmarks, enough here to have extras if you lose one, or to simply share with someone special.

Our Artisan Bookmarks make great gifts, and so easy for you to just put in a card and mail anywhere in the world to a loved one! We ship fast too! **Click Link below here to See My ebay Store for MORE of MY Artisan Bookmarks & Calendars!!!!** Click here for MY ! You are getting here ALL 3 FUN Artisan Golden Retriever DOGS Measures about 5 x 1 1/2 inches GLOSSY Fully Laminated 2017 CALENDAR which can also be used as a BOOKMARK,Beautiful Artisan Fronts with Calendar Backs, & for the Holidays attach a ribbon and use as an Ornament (see photo example below)These make the Perfect Gift for ANY Occasion!!*** Measures about 5 x 1 1/2 inches *** YES, you are getting all 3 shown in photo! Double-Sided ~ Artwork on Front & BackPerfect gift~~DUEL use, a Bookmark and Calendar in one!!! Great for Paperback Books or any book perfect to toss in a wallet or purse, keep on ones desk, next to your computer, anywhere a calendar may be needed, A USEFUL Handy Calendar...Great for home, school, work or travel! FUN ARTWORK ~ DIFFERENT ON BOTH SIDES!!! Measures about 5 inches Tall x 1 1/2 inches Wide.

WE ONLY USE PREMIUM Photo card-stock, the BEST of the BEST! YES-FULLY LAMINATED & FULLY DOUBLE-SIDED!! This would make for a great gift, great for a card stuffing gift and perfect to add in that Birthday or Valentines or Mothers Day CARD, ANY Holiday gift, as that special gift that keeps on giving-ENJOY. ***Just below here shows an example of a few of my Double-sided/LAMINATED Bookmarks/Calendars strung up and used as Christmas Holiday Ornaments.All YOU have to do is punch a small hole on top of the Calendar/Bookmarks and YOU add any type of ribbon or yarn of your choosing and hang them to decorate.

Then, after the holidays, just take off the tree and use ALL through the NEW YEAR!*** ***(Many People have told me they decorate their walls and lockers with these all year!)*** ~~~~~~~~~~~~~~~~~~~~~~~~~~~~~~~~~~~~~~~~~~~~~~~~~~~~~~~~~~~~~~~~~~~~~~~~~~~~~~~~~~~~~~~~~~~~~~~ **** ALL OUR Bookmarks are Hand Designed and Professionally Printed Both sides are FULLY Laminated AND ALSO each one of our laminated Bookmarks goes through 'OUR very Unique Specially designed heat press Machined process Technique' to give it that very 'Eye Popping' Look AND Long lasting Durability! (ALL DO HAVE ROUNDED CORNERS!) ----------------------------------------------------------------------------------------------- Also, many of my designed bookmarks can be made into Calendars, email me and ask me if you see something youd like. ------------------- ***NOTE-FOR MULTI PURCHASES ONLY from the SAME SELLER ROBBIESCREATIONS**** Ebay NOW requires BUYERS to put all the items from the Same SELLER in the EBAY SHOPPING CART and then pay for ALL items at one time to qualify for any combined shipping. ----------------------------- **These GLOSSY laminated Bookmarkers measure about 5 inches Tall x 1 1/2 inches Wide ... ~~~~~~~~~~~~~~~~~~~~~~~~~~~~~~~~~~~~~~~~~~~~~~~~~~~~~~~~~~~~~~~~~~~~~~~~~~~~~~ ***Beautiful BOOKMARKS...Our Special Technique used is a UNIQUE PROPRIETARY LAMINATION with NO sharp edging-giving these BOOKMARKS the look and feel of soft flexible VINYL...SO easy for YOU to attach your favorite type and color Tassel...all you need to do is punch a decorative hole on the top of ANY of MY Bookmarks and attach your own Tassel using your favorite color ribbon, Beads, Charms, lightweight Fancy Anklet or Bracelet...!!!! Not shown in photos BUT-ALL MY BOOKMARKS/Calendars come with NICE ROUNDED CORNERS!! WHAT A PERFECT GIFT...A GIFT that is USED DAILY at HOME....WORK...SCHOOL....TRAVEL....BATHROOM....MOST ANYWHERE **** YES, EACH and EVERY Artisan In idual bookmark is carefully hand done by Us and Truly Created and Made in the U.S.A. *** DONT worry, your bookmarks will NOT have that water mark that is shown on my artwork here on Ebay, it is only here to protect my photos online by 247bookmarks!!! These Bookmarks measure.... Measures about 5 inches Tall x 1 1/2 inch Wide... (Metric for Europe/UK - 12.7cm tall x 3.81 cm wide) Smoke-Free Home **WE SHIP WORLDWIDE** **********Have A Great Day!!********** PLEASE be sure to check out my ebay Store for MORE bargins!!!! Click here for MY ! From RobbiesCreations! Thanks for a Wonderful and Fun Time on ebay!!! Normal 0 **COMBINED FOR USA: Notice that we offer a quantity shipping discount on all Bookmarks & Calendar Bookmark purchases, that are paid for on ONE Single Invoice.

The first order ships for the listed amount and then all additional orders are combined at our great low additional shipping fee per order.

Please check my other Artisan Bookmarks & Bookmark Calendars we have listed (by clicking "see other items" in the box top right side of page), Or "Click Here for My Store", at the top of this ad!". The more you purchase, the more you save on shipping on a Single paid Invoice.

This special shipping is available for all purchases within a 4 day window that is paid for at the same time on One Single Invoice.

Note that ebay will automatically send an invoice after each purchase and ebay does NOT combine shipping manytimes, If the invoice you get does not have the combined shipping amount, request a new invoice BEFORE YOU PAY.

When you are finished shopping the site might automatically combine all qualified sales into one invoice with a single low shipping cost, if it does not, just REQUEST INVOICE from Seller and wait for the New Invoice for your order BEFORE you pay with the Combined shipping and handling.

Ebay MIGHT have you put all the items being purchased from my Store IN THE EBAY SHOPPING CART to get the combined shipping.

Many times the shipping cost is more then what I charged as postal rates continue to go UP, (you can see that on your shipping label), and I pay the difference, since USA orders are shipped as Parcels with adding Tracking raises costs. ***Please make sure that your purchases are combined prior to paying, as multiple shipping and handling fees cannot be refunded due to paypal and ebay fees that are based on in idual purchases and are removed at time of payment from my account and not refunded to me.

MY GOAL and HOPE is to MAKE the WORLD a LITTLE MORE FUN-Happy Reading, Thank you!!!