Collectibles > Linens & Textiles (1930-Now) > Lace, Crochet & Doilies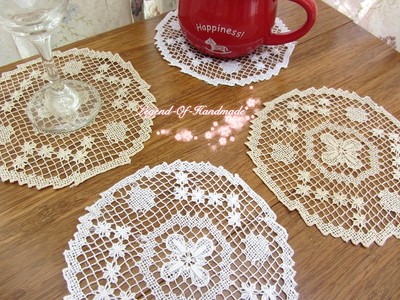 Time left:

15 days 1 hours
Item Number:

222155100964
(Last Updated: 9 Hours 0.0069444444444446 Minute ago)
Payments:
Credit Cards processed by PayPal
Shipping:
Free ePacket delivery from China
Similar items you may be interested in
Description
Description LOT, 8pcs of vintage handmade filet lace doilies, 4 pieces in white and 4 pieces in beige, cotton, about 5" round.Collected from the old stock of one handembroidery manufacturer, made quite a few years ago, kept in very good condition.

If they were made nowadays, we could not get it at such a low price.Dainty workmanship, shabby look, country cottage style.Ideal for home decoration, tea party, wedding ceremony, candlelight dinner, holiday gathering, DIY project, etc.Delivery To the United States: 8-15 business days To other countries: 20-30 business daysAll my packages are sent by registered mail with tracking number.

Attention 1. Combined shipping is available when you purchase multiple items.2. I always send my items within the handling time promised.

But please understand that Im only a seller and shipping time is never under my control.3. All my vintage pieces were made quite a few years ago, from bankrupt manufacturers.

Thus many pieces are not 100% perfect because of long storage.

They may have age spots, slightly yellowing parts, and so on.

If you are very strict with their condition, please contact me before you purchase. 4. If there is any problem with the items you bought from me when you receive the package, please feel free to let me know.

Im always more than happy to handle it together with you.

Please remember that neutral or negative feedback can not ease your dissatisfaction, but communication helps.

Anyone who leaves me a neutral or negative feedback without any communication will be blocked for any future purchase.

I fully respect you as a buyer and I also hope you can respect me as a seller.