This listing has ended.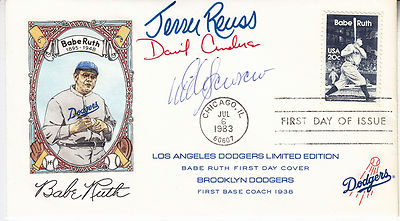 Similar items you may be interested in
Collectibles > Autographs > Sports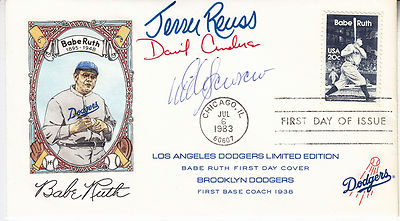 Similar items you may be interested in
Description
Here is an authentic hand signed postal FDC First Day Cover signed by DAVID ANDERSON (1960 - ), MIKE SCIOSCIA (1958 - ), and JERRY REUSS (1949 - ). It is in excellent condition.

It is on a 1983 LOS ANGELES DODGERS LIMITED EDITION BABE RUTH cover and the COA is from TODD MUELLER AUTOGRAPHS . Normal 0 false false false EN-US X-NONE X-NONE MicrosoftInternetExplorer4 About TODD MUELLER AUTOGRAPHS : This photo is accompanied by the COA from Todd Mueller.

TODD MUELLER is the President of Autographs by Todd Mueller, Inc, and Todd Mueller Autographs.

He created a million dollar card set, has written a book (six printings) on autograph authentication,. He is also a member of the MANUSCRIPT SOCIETY as well as a SOTHEBYS ASSOCIATE.

I encourage you to read my ABOUT ME page by clicking HERE.

You also might be interested in looking at my auctions that ended recently that did not sell, by clicking HERE. (Communication is important): Dont hesitate to email me at SethOnEbay with any questions. (How and when you're gonna get it): Where possible I will try to combine multiple purchases into one shipment to save you on shipping costs.

Items shipped after payment clearing MY bank.

Please note that this is not a full-time endeavor for me and I do have other responsibilities.

I always try to get these items shipped ASAP, but it might take a few days or perhaps as much as a WEEK OR TWO for me to get your item shipped out, depending upon many factors.

If you have a special situation and you want the item shipped ASAP, please arrange that with me BEFORE you bid or submit an offer for my acceptance.

Please don't hold me responsible for the shipping/carrier's efficiency.

I can only do what is in my control to get your treasure to you as soon as I possibly can.

I do not charge any handling fees, nor do I charge for packing materials/supplies.

The charge that I list for "shipping" is based upon many years (since 1997) experience of selling/shipping on eBay, and I like to quote a fixed price in order to keep it simple.

I generally ship items via USPS Priority Mail, but unless specifically mentioned in the listing then it would be my option to go for another method.

If I know for certain that Im sending it to you via Priority, then Ill usually indicate that in the listing.

Each item is packed carefully to ensure that it arrives in the same condition that it left.

Flat memorabilia items such as photos and FDCs are put into hard envelopes and then put into a larger box.

Fragile items are wrapped with cushioned material such as bubble wrap or spongy foam. (You get the treasure, I get the moolah): not received within 3 days from end of auction - buyer risks right to purchase.

BIDDING and OFFERS: Bidders with either NET negative feedback or a zero (0) rating must email me before bidding.

I reserve the right to cancel your bid otherwise.

Make sure you re-review the entire listing, including questions nswers, before placing your bid or offer since the listing might have additional information added later which comes up at the very bottom of the listing.