This listing has ended.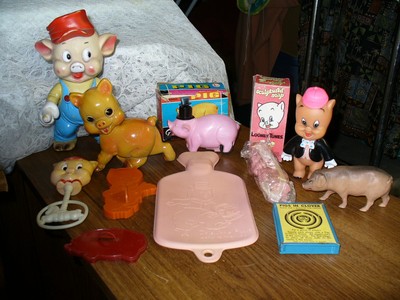 Similar items you may be interested in
Collectibles > Animation Art & Characters > Animation Characters > Warner Bros. > Porky Pig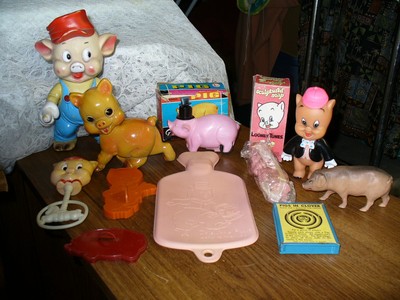 Similar items you may be interested in
Description
This lot of pig items from the 1950s -1970s are from one persons estate.

The 11 items include: (1) Rempel squeaker toy: 5 1/2" tall with Rempel mark still squeaks does have some crazing to the rubber (2) Looney Tunes sculptured soap in the original box: the pig sculptured soap is still in the unopened plastic box has some scuff marks on it dated 1975 (3) Running Pig friction toy in the original box: made in Hong Kong by "L" #107 still works as the black hat goes up & down as the toy runs toy is in awesome shape, but the box has been scotched taped because its beat up plastic toy pig measures 4 1/2" long (4)Warner Bros.

Porky Pig from Looney Tunes: soft rubber toy measuring 5 1/4" tall no damage and awesome coloration circa 1976 (5) "This little piggy went to market" childs pink rubber hot water bottle: circa 1950s great coloration and condition has screw on cap (6) Warner Bros. plastic pig baby rattle: dated 1975 measures 6 1/2" long no damage....but red paint has worn off in spots (7) Pigs in Clover game: made of metal in terrific condition with 3 metal balls inside made in "United States of America" (8) Warner Bros. orange plastic Porky Pig cookie cutter: dated 1978 no damage & great coloration measures 5" long (9) HRM red plastic pig cookie cutter: has a handle made in USA measures 3 1/2" long (10) Celluloid pig: made in USA perfect condition measures 4 1/2" long (11) Walt Disney Productions 9" tall squeaker pig with movable arm: squeaker does not work no damage to the pig figure, but the paint is worn off in places does have Disney stamp on the back of the neck If this collection was sold separately, it would sell for a lot more than what I am asking for the lot.